A DISAPPEARING ACT THAT'S TOUGH FOR THE COMPETITION TO FOLLOW!
from a speaker but this is one of those times. The whole point of ceiling speakers is in the aesthetic. When customers choose Paradigm in-ceilings, it's a given they want to hear great sound, they just don't want to see it. We complied, making our virtually invisible in-ceiling bezels even less visible across the AMS Series in-ceiling lineup. The odd time your customer looks up at the ceiling, there won't be much to see … which is exactly
what they're looking for!
MODEL ENHANCEMENTS
NEW! Thinner, Sleeker Bezels with more transparent scrim for a cleaner, disappearing aesthetic with increased sonic transparency.
NEW! Low-Density NLC™ Non-Limiting Corrugated Thermoplastic Elastomer TPE Surround, trickle down technology from our Signature Series. FEA optimized and overmolded onto the polypropylene cone. The new surrounds allowed us to achieve double the power in The speaker now plays louder. +3dB output. The thermoplastic elastomer is ten times more effective than standard elastomers in damping vibrations and resonances and the corrugations increase peak-to-peak excursion. While we would have loved to have effected this change across models, the Guided Soundfield model was the only model physically able to accommodate the size and quantity of corrugations needed and the larger motor structure.
Now Plays Louder! +3 dB output!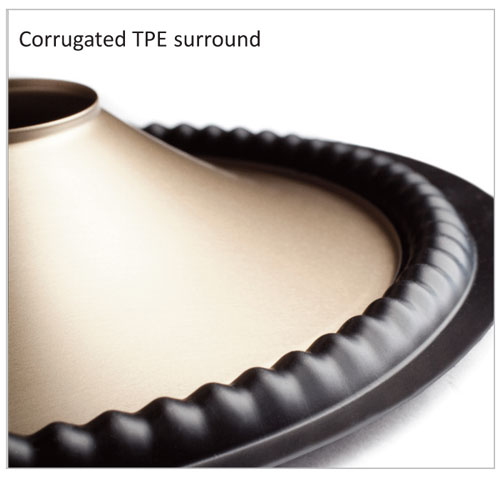 Full-Perimeter Bracket Design. Unlike typical mounting ears, brackets cover the full diameter or height and width of the speaker chassis to effectively sandwich and strengthen the area around the mounting hole.
Advanced High-Power S-PAL™ Satin-Anodized Pure-Aluminum Domes. Ferro-fluid damped and cooled. The low-mass tweeter domes with treated textile suspensions are exceptionally rigid. Extremely uniform and instantaneous power response.
Advanced High-Power Mineral-Filled Co-Polymer Polypropylene Cones. Large, computer-optimized magnets and high-power motor structures promote natural and detailed sonic reproduction with outstanding extended bass response.
High-Pressure Die-Cast Aluminum Chassis and Mounting Brackets (selected models). The supremely rigid die-cast structure reduces resonances and standing waves, while the aluminum does double-duty as a heatsink.
High-Strength GRIP™ Glass-Reinforced Injection-Molded Polymer Chassis and Mounting Brackets (selected models). Design strength/rigidity reduces the problems of vibrations and resonances.
Paradigm has made every effort to ensure accuracy of information, but cannot be responsible for typographical or photographic errors. Refer to actual cut-out templates packed with each speaker before attempting to cut any holes.