Fully Powered Speaker System
Our Millenia CT is a high-performance design inspired by the award-winning Paradigm Reference MilleniaOne speakers, winners of Sound & Vision'sProduct of the Year. It's a fully powered audio/multimedia system, no receiver required!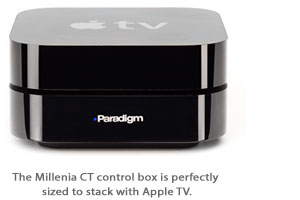 Perfect for Apple TV and Other A/V Applications
Simply pair Millenia CT with a wireless streaming device, such as the AppleTV or Apple AirPort Express, and instantly enjoy amazing sound quality without a complicated setup. The high-performance subwoofer offers convenient placement options—stand it up, lay it down or hide it under a couch and experience deep, powerful bass.
Multiple Applications
While the Millenia CT is designed perfectly to integrate with Apple TV, there are many other applications—hook it up the a computer, gaming system, directly from your TV, cable box, or any other wireless streaming music or video system that has an audio output.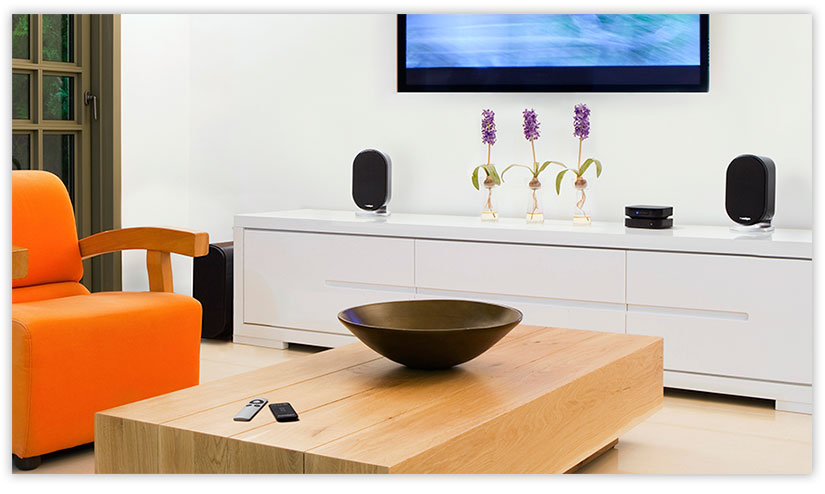 Simple Setup, Amazing Sound
But don't be fooled! Despite its plug 'n play architecture, behind the scenes there's a raft of Paradigm technology at work—the kind of technology not found in any other compact high-performance speaker system in this price range. And versatility! For those of you who may be wondering, the initials 'CT' stand for Compact Theater! Paradigm excels at producing giant sound in a compact format.
Immersive Sound for Video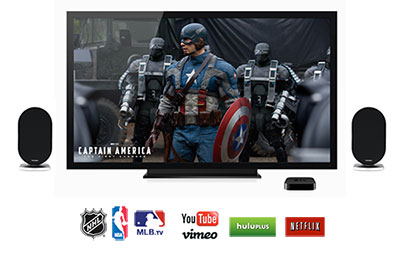 With Apple TV you get the hottest movies and your favorite TV shows from iTunes, the entire Netflix catalog of streaming titles, live sports and more. But what's missing is the big impactful sound you get at the theater or at the game. Millenia CT brings that experience home to make movies and live sports jump off the screen for an immersive and dynamic sound experience!
Stream Your Music Wirelessly with AirPlay
Apple's AirPlay is an amazing way to stream music directly to your speakers from an iPhone, iPod, iPad, or the iTunes library on your computer. Simply connect Millenia CT to an AppleTV or AirPort Express using the included audio cables and start streaming your wireless music collection for an immersive, richly detailed sound experience.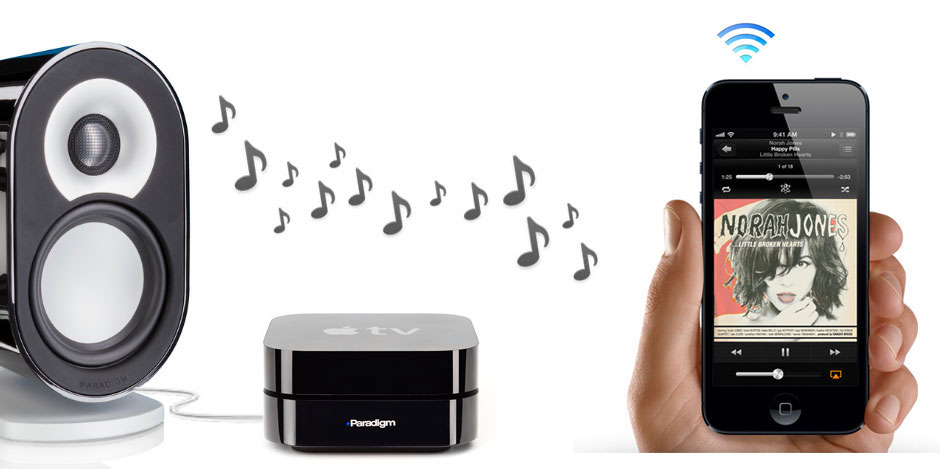 Everything Included in One Box
We've made it super easy to start enjoying award-winning sound with the Millenia CT and everything is included in one box—two premium satellite speakers with stands, a powerful ultra-slim subwoofer, all the cables needed for a simple hookup, and a control box that hooks directly to AppleTV, AirPort Express, or other streaming devices.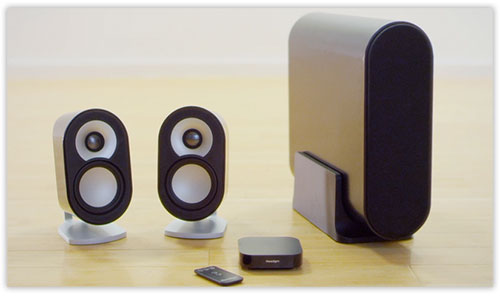 Millenia CT System includes:
Speakers
Two satellite speakers with adjustable table stands.
Subwoofer
Built-in amplifier.
Cradle for vertical positioning.
Rubber feet to provide clearance when positioned horizontally.
Accessories
Control box for an instant connection to your TV and audio/video equipment.
Remote control with long-life lithium battery.
6 cables needed for hook-up: power, optical, 3.5-mm, control box and two speaker cables.